A church organ is a large investment with its heritage from pipe organs that typically served for decades.  Some church organs are not supported in that manner.
Digital organs and modern pipe organ consoles include sophisticated circuitry and parts that often have one supplier and will ultimately go out of production.  Whether an organ is serviceable and can be used at a future date will depend on the availability of these parts.  They will only be available if the organ's manufacturer has the financial resources, corporate stability, and commitment to maintain an expensive parts inventory.  Some organs have become unserviceable because of parts issues.
A Rodgers Instruments Tech Support statement published in 2011 with highlighted portion stating:  "While we can technically supply repair parts, we do not stock many of the repair parts for an organ of older vintage."  
General Electro Music (GEM) was a large Italian musical instrument manufacturer who built digital church organs under the names "Galanti" and "Ahlborn-Galanti".  Some years ago GEM stopped offering organs.  A 2017 Internet MITA posting, the association of musical instruments service technicians, indicates parts are no longer available for these organs.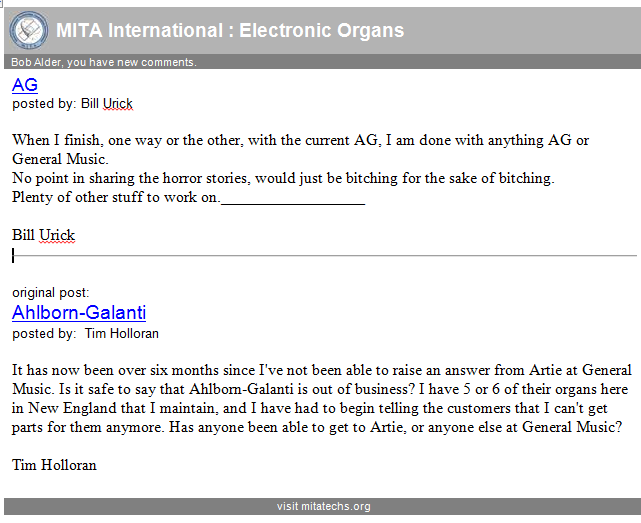 Carillon systems have many similarities to organs.  Both include keyboards and electronic control circuitry.  A key difference is in the type of sounds produced.
One of carillon company, Schulmerich, in 2015 sent out the email below indicating a lack of parts availability for their instruments produced up until 2001.