In-house manufacturing is becoming more of a foreign concept for modern manufacturers. Many producers of consumer grade products, especially within the tech industry, rely on outside companies to supply parts for critical subassemblies as a way to cut costs and make up for deficiencies in their own manufacturing capabilities. This often results in orphaned products due to reliance on these third-party suppliers. Consumers have been conditioned to accept this throwaway mentality and often do not consider a shorter product lifespan as a "deal breaker" when considering a big-ticket purchase.
Due to COVID-19, many companies that rely upon third party vendors, mainly located in China, were unable to stock certain devices due to supply chain shortages. Companies that rely on third party vendors typically do not pass down their savings to customers. Rather, they put their customer's investment at risk due to lack of long-term parts availability and quality control oversight.
In today's throwaway society, it is second nature for a consumer to replace a cell phone after just two years. Because of this behavior, tech companies do not offer a long-term source of replacement parts which results in what seems like planned obsolescence. What about a larger purchase such as a household appliance? Surely you would expect manufacturers of these items to offer long-term parts support and quality in-house manufacturing? Unfortunately, that is not the case. Parts may not be available in as little as seven years from the date of manufacture. Again, we as consumers are conditioned to replace instead of fix. With that in mind, how does in-house manufacturing protect your long-term investment?
By building important subassemblies and components in-house, the manufacturer is able to provide long-term support along with a much higher level of quality control. For example, if a you have a consumer grade product such as a refrigerator and the circuitry malfunctions, who is responsible for support and warranty work? The refrigerator manufacturer may not have built the original circuitry and the circuitry company can no longer support that component. Now what? The same conundrum occurs throughout the manufacturing industry and can leave products unusable because of faults by the manufacturer and their desire to cut corners. Unfortunately, this also occurs in the organ industry.
When making a purchase for an organization, especially a church, it is important to be considerate of the church's stewardship and make a purchase decision that will be able to sustain the church for decades.
Many of today's organ builders, both pipe and pipeless, rely on third party manufacturers for components such as stop controls, amplifiers, console control systems, and even complete consoles. These companies that rely on third-party parts are unable to oversee quality control and do not have the ability to assure their customers that the organ's important assemblies and parts will be available for the lifetime of the instrument. By dealing with multiple companies to provide important parts, these companies and their customers are truly gambling with the church's investment. Will a given part still be available 20 or more years in the future?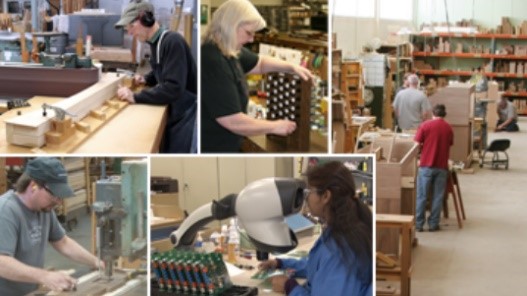 Allen Organ's vertically integrated manufacturing techniques allow support for all of their instruments by making parts available for every organ built throughout their company's long history. Allen produces circuit boards, consoles, stop controls, keyboards, amplifiers, and other important assemblies in-house, resulting in an instrument that lasts longer and is less expensive to own over time. Allen provides complete transparency of their capabilities through factory tour videos and even opening their factory to potential customers. Before signing a contract for a church organ, customers should visit the manufacturing facilities of any builder under consideration.
While it might not be today's industry standard, Allen Organ has committed to in-house manufacturing and product sustainability. Some companies, specifically some digital organ builders in Europe, promote genuine craftsmanship while having assemblies and consoles built by third party suppliers. Be cautious, do your research, and ask the right questions.