Low-cost used organ options are available on auction sites, market places, and by private sellers. Buyers need to educate themselves on the risks and real cost of purchasing a pre-owned instrument.
While used organs are more expensive to maintain than new instruments, their initial investment is lower.  Before considering a used organ, be sure to research if: a) parts are available for the instrument being considered, and b) what are the costs associated with those parts.  Prospective used organ customers might be interested in what they uncover.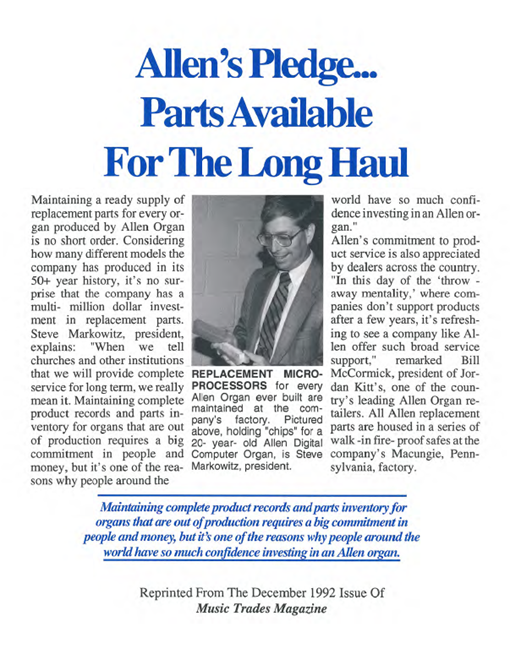 A hallmark of Allen Organ Company is that the Company has replacement parts for even its oldest instruments produced decades ago. This is not the case for all organ companies. Still, Allen believes it is important to stand behind its instruments.
Even though Allen Organ Company stocks parts for its earliest instruments, there comes a point when investing in an older instrument does not make sense due to age, the ongoing cost of maintenance, and technological capabilities.
When deciding on an instrument, consumers should consider:
Versatility: Does the organ include multiple stoplists, additional high-definition dynamic contemporary and organ voices, smart phone sequencing application, and an easy to navigate touchscreen user interface?
Technology: Does the organ offer convolution reverb, advanced voicing capabilities, and the industry's most advanced software-based architecture?
Sustainability: Is the organ in-field updatable, free of routine maintenance, and is a used instrument a good use of funds?
Throughout Allen Organ Company's eight-decade history, instruments have morphed through various technological generations. Allen's new GeniSys Technology has revolutionized the organ world with a sustainable technology that is more advanced and user-friendly than ever before. Because of Allen's sustainable and upgradeable GeniSys technology, customers no longer need to rely on costly service calls.
When deciding between a new or used Allen Organ, a customer should examine the instrument's versatility, technology, and sustainability. Be sure you are investing in an instrument that is designed to sustain your congregation for generations of use.
The chart below outlines the various generations of instruments built by Allen Organ Company with comments regarding maintenance recommendations.  This Blog has not obtained information regarding similar information for other builders.